Zenith Member Spotlight: Timothy Groshong
by Klaire Howerton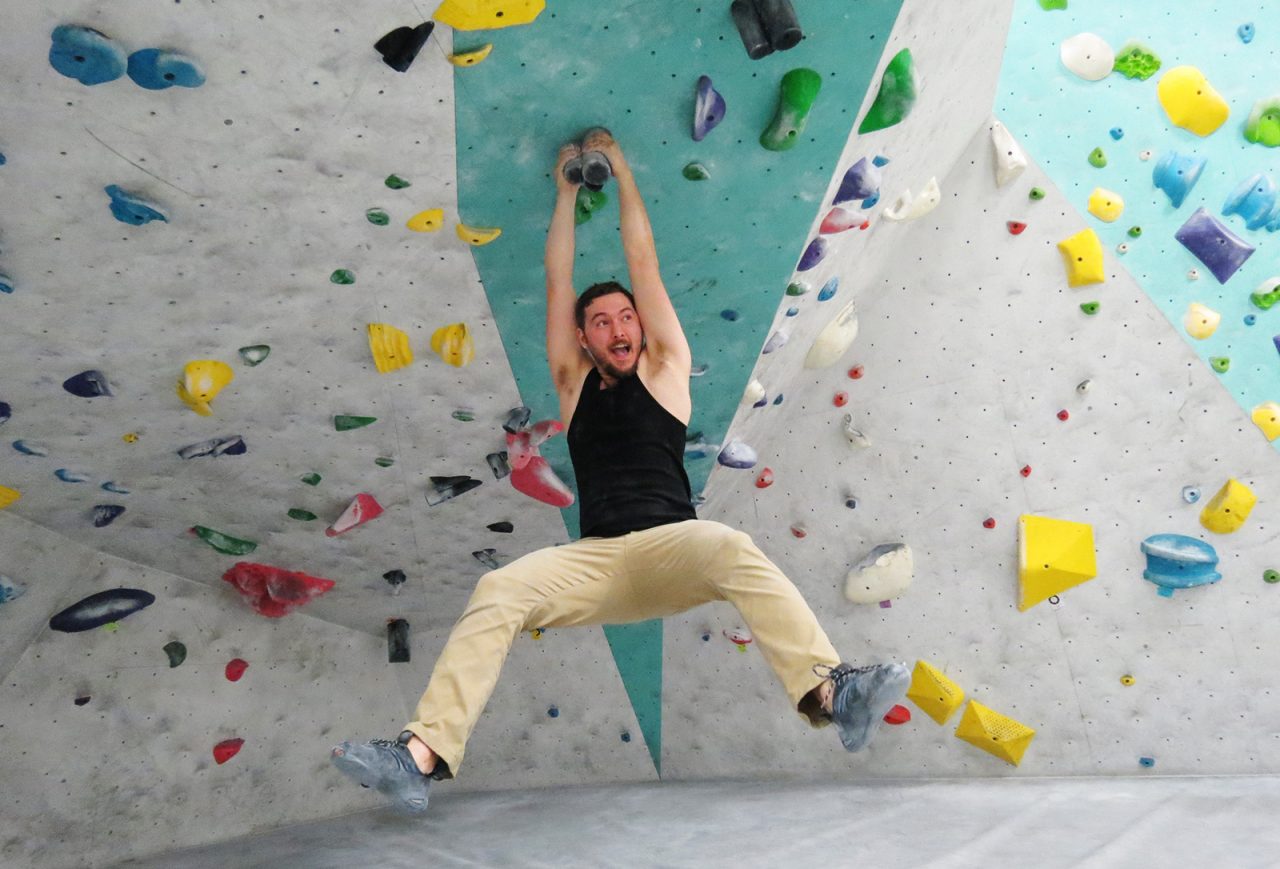 ---
Even if you don't know him by name, chances are if you've spent much time at the gym, you'll recognize the friendly face of Zenith Climbing Center member, Timothy Groshong. If you want a fun person to climb with, enjoy getting thoughtful and creative beta, or need an experienced spotter, Tim is your guy!
The 25-year-old ZCC member has been climbing for 15 months and has an infectious passion and drive for the sport, its people and his home gym. "Zenith is my hang out spot," he said, "all my friends come here, it's where I get my exercise. It's my home base and it means a lot to be here." Tim makes the most of his gym membership by fully utilizing all that Zenith offers; when he is not projecting on the bouldering or rope walls, you can find him taking a Zenith Yoga class to improve his mobility and flexibility, using the fitness equipment to step up his game with a custom made training plan from the ZCC training staff, and participating in many of the gym's workshops, competitions and fun events, such as Bouldering League, with his wife, Samantha. Outdoor bouldering in many of the Ozarks' climbing hot spots is another activity that Tim loves. The hours he puts in at the gym have helped him achieve sending the V5 outdoor boulder, Eat Your Oatmeal in Cowell, Arkansas, his current personal best.

Tim also enjoys climbing at Horseshoe Canyon Ranch in Jasper, Arkansas, and Peter's Branch near Chadwick, Missouri; he has plans to work with other Zenith members to improve the overall accessibility of the trail system at Peter's Branch, and to clean up some fresh routes for beginner and intermediate level outdoor climbers. He said he appreciates having a quality outdoor bouldering spot so close to home for days when traveling may not be an option, and he would like for other climbers to be able to enjoy what the area has to offer as well.

---

---
Outside of climbing, Tim is an Ozarks Technical Community College student with a goal of pursuing a Fine Arts major. A habitual 'doodler' from a young age, his creativity has become a cornerstone in his adult life, and he has been a devoted artist for the past two years and creates unique, lowbrow style paintings that can be found on his website, theartoftimothygroshong.com, and his Instagram page, @theartoftimothygroshong. His work can be purchased as original paintings, prints, stickers, and buttons.
When asked what his favorite part of being a ZCC member is, Tim said: "it's the sense of belonging here." After living in many different states and visiting lots of different climbing gyms, Tim said Zenith really stands out because of the solid community of climbers that gather at the gym on a regular basis.

For folks who are considering a ZCC membership, whether it be a monthly membership or an annual membership from the upcoming sale, Tim highly recommends getting to know the gym staff well to reduce those new member jitters – he said that knowing the staff made him feel welcomed and comfortable in the gym right off the bat and gave him a chance to ask questions and learn from the pros. "Reach out and talk to people, make friends!" he said.
Whether you are a veteran member or new on the climbing scene, stop and say hello the next time you see Tim – he is always glad to help you truly feel like part of the ZCC family.