Boulders & Brews: A Perfect Weekend Pairing
Just an easy 5-hour drive from Springfield and you'll find yourself in the holy land
of great bouldering and one of the region's best microbreweries.
by Jamie Strong
---
Photos & Travel Beta
Drive Time and Route:
4 hours and 45 minutes from Springfield via US-60 east to I-55 north
When to Go:
Prime climbing season at the Holy Boulders is October through early April. Finding a good weekend throughout the winter is almost guaranteed with a flexible schedule and an eye on the weather forecast.
Suggested Trip Length:
A long weekend
Camping:
Murphysboro Lake or Johnson Creek Recreation Area
Don't forget to pack:
Crash pads, camping gear, and plenty of cooler space to take home some of the region's best craft beer.
---
Quality rock probably isn't the first thing that comes to mind when one thinks of Illinois, but the Holy Boulders in the southern part of the state are known for their Fontainebleau-like perfect friction and aesthetic lines. Pair that with Scratch Brewing Company in nearby Ava, Illinois and you've got one helluva reason to visit.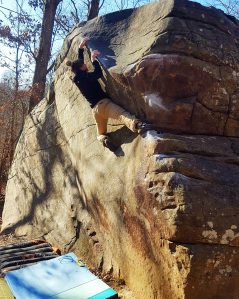 The Boulders
The perfect sandstone boulders, nestled on the western slopes of Shawnee National Forest, boast the largest concentration of boulders in the area with over 200 developed problems from V0 to V13. The Holy Boulders are open thanks to efforts by local climbers, Illinois Climbers Association, and the Access Fund to acquire the property in 2012.
Don't miss a chance to get on the many 3-4 star classic lines at the Holies. We recommend warming up on The Mollusk Boulder. From the traditional approach trail it's the first boulder you come to (near a small kiosk) and offers lines from V0 to V3 including the namesake line, The Mollusk V2-3, that goes along the slopey scoop on the right side of the boulder. From there, continue up the trail, looking toward the cliff line for plenty of other worthy climbs on the free-standing boulders and cliff base itself.
Please remember to practice leave no trace ethics, pack it in-pack it out, and stay on existing trails where possible. Respect adjacent private property to the south and do not drive up or approach from Tripp's Lane. Overnight use and ORV/vehicular access are not permitted on the property. Please contact the Illinois Climbers Association or Access Fund immediately if there are any concerns.
Guidebook:
Consult this handy miniguide and take a look at mountain project before you go!
Additional area maps can be found here and here.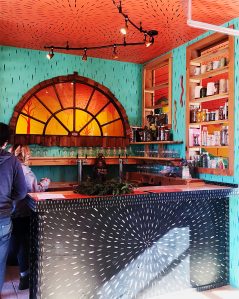 The Brewery
Scratch Brewing Company is a farmhouse brewery located five miles from the Shawnee National Forest in Ava, Illinois. Named one of the top four breweries for foraged beer by Outside Magazine, and one of the most beautiful places to drink beer in the world by All About Beer Magazine, Scratch Brewing Company focuses on farmhouse beers and other styles brewed with home grown and locally farmed and foraged ingredients. The brewery has an ever rotating selection of styles enhanced by the innovative addition of local ingredients, such as nettle, elderberry, ginger, dandelion, maple sap, hickory, lavender, juniper, and chanterelle mushrooms.
With beer names such as Dead Leaves & Carrots, Sour Cedar, and Blackberry & Lavender, Scratch creates beer with a diverse array of farmed and foraged ingredients that showcase the "terroir" of Southern Illinois. Not only do they have some of the most unique beers in the country, they also have a limited food menu that is almost entirely locally sourced. Bread and pizzas are baked in house with fresh stone-ground local wheat flour, fermented with their house sourdough culture, and baked in a wood-fired brick oven. Produce is grown or foraged on site.
Getting There:
Located about 30 miles away from the Holy Boulders (and 15 miles from the best camping spots), the brewery is well worth the drive. Don't be surprised to drive through acres of farmland. You're not lost, this place is just a hidden gem.
Address:
264 Thompson Rd
Ava, IL 62907
Hours:
Visit their website for current hours.